Support Us
What You Can Do To Help
 
We are always looking for people to write letters, send emails, and contact the Bowie City Council members to tell them that you support a short-term shelter in Bowie! No letter, no email, no phone call is too small.
Go to the City of Bowie website to learn more about your council and how to contact them.
http://www.cityofbowie.org/Council/index.asp
We also are pleased to take donations to assist our Pet Assistance and Support (PAS) program as well as support our mission. To send donations, please contact at BowieCLAW@gmail.com.
Bowie CLAW is a proud to announce that we have been accepted as a participating member of the Animal Welfare Fund in the following 2102 Mid-Atlantic CFC regions: 2012 Cheasepeak Bay CFC, 2012 National Capital Area CFC, 2012 St. Mary's County CFC,  and 2012 Western Maryland CFC. At this time federal employees will be able to designate a portion of their payroll to a charity or charities of their choice.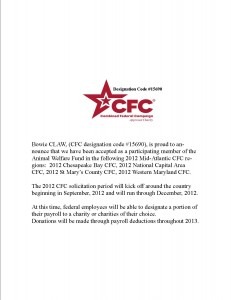 Thank you for your support!